Introduction
Building with steel is one of the newest and most exciting developments in the construction industry. Increasingly, people are choosing steel over other building materials even for construction of residential homes. Moreover, those looking to buy homes are also keen to find a home made of steel. Here are some of the factors that should get you choose steel frame buildings:
Quick to build
Steel Frame Buildings are incredibly fast to build. The reason is that most of the shaping on the steel materials is done at the steel factory. Therefore, yours is to get the steel and join it where it is required. The pre-shaping makes your work at the site super quick!
Flexibility
Structures made of steel are flexible because of the flexibility of the steel itself. This flexibility enables the buildings to resist any alterations in force such as earthquakes or even wind. The flexibility allows your building to remain safe regardless of the weather or environmental conditions. With many structures today being destroyed by the wind, cyclones, earthquakes, etc. you need a structure that has enough resilience to cope with these situations.
Ready-made structures
Construction makes use of various structural sections. These parts require investments of time, materials, and expertise to make. However, you will find it so comfortable working with steel since the sections are pre-made and are available for use. Thus, instead of buying materials then go to work on them to make the parts, buy steel and use it straightaway. The ready-made structures save you the time and the cost needed for making sections.
Easy to use
Steel can be very easy to use compared to other materials. It can take any shape you need. Moreover, steel can clad well with any other material without causing you trouble. Compatibility with other building materials is beneficial for building materials.
Multiple joining methods
Steel has a broad range of ways in which it can be joined. For instance, it can be bolted, welded, or riveted. These techniques make work easy for builders. Moreover, bolting, welding, and riveting add to the stability and durability of the structure.
Durability and safety
Steel houses last longer and are safer compared to those made of timber. The reason is that they give no room for bugs to make nests. Usually, bugs invade wood and cause damage to it. This invasion is not so of steel. Not threats of rotting either. Moreover, steel frame buildings can withstand any weather conditions because of its sturdiness. Therefore, safety is guaranteed.
Conclusion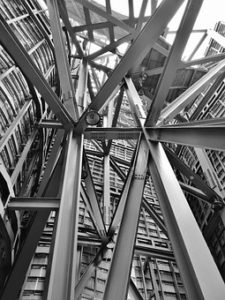 Steel frames are not just for large buildings or commercial structures. They can also be used for residential or even the smallest of the structures based on the advantages mentioned above. Moreover, the fact that steel can clad with ease with other materials can enable you to make a construction that leverages on the benefits of steel and that of other building materials.